Digital Accessibility Centre Certificate of Accreditation
Accreditation Certificate Number: NHSIS/21

Client: NHS

Service: NHS Innovation Service

Certificate Issued From: 27th August 2021Until: 26th August 2022

Platform: Desktop and Mobile
Certification:
To achieve certification each product undergoes a manual technical compliance review against WCAG 2.1 to level AA.
The service underwent both a technical compliance audit and robust end to end testing by users with a wide range of disabilities including blind, low vision, dyslexia, colour blindness, mobility impairments, learning difficulties, Deaf, Asperger and anxiety and panic disorder.
All testing is carried out in line with relevant platform specific guidelines, and where applicable, conforms with The Public Sector Bodies (Websites and Mobile Applications) (No. 2) Accessibility Regulations 2018. Testing also conforms to Section 508 of the Americans with Disabilities Act (ADA)
Known Accessibility Issues
None.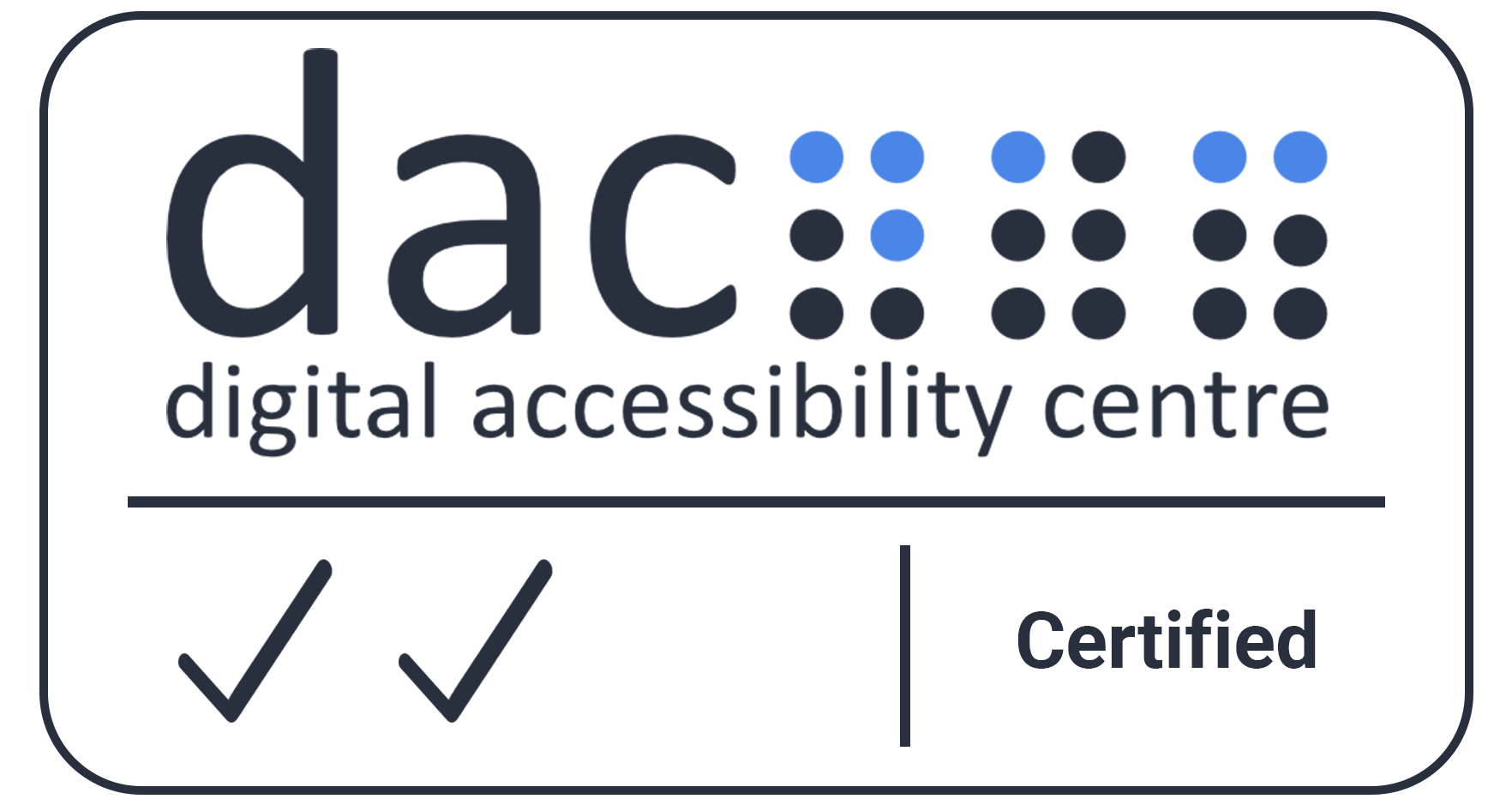 Scope of Testing
Journey 1
URL: https://stage.innovation.nhs.uk
What we can offer you page: test the page, click on 'Find the right support for your innovation'.
Find innovation support page: Click start now
Choose all categories that can be used to describe your innovation, select PPE, then click Continue
If you had to select one primary category to describe the main part of your innovation, which one would it be? select PPE, then click Continue
Have you identified what problem the innovation will tackle? Select 'Not Yet' then click Continue
Have you done market research so that you understand the need for your innovation in the UK? Select 'Not Yet' then click Continue
Have you identified who would benefit from your innovation? Select 'Not Yet' then click Continue
Have you identified the specific benefits that your innovation would bring? Select 'Not Yet' then click Continue
Have you tested your innovation with users? Select 'Not Yet' then click Continue
Have you achieved all relevant certifications? Select 'Not Yet' then click Continue
Do you have evidence to show that your innovation is safe to use and effective? Select 'Not Yet' then click Continue
Do you have evidence of the cost and benefits of your innovation when used in practice? Select 'Not Yet' then click Continue
What type of support are you looking for? Select 'I am only looking for information right now' then click continue
Check your answers – send your application, click complete
Successfully submitted page, click 'Continue to Create an account'
Create an Account page:
Enter your DAC email click 'Send verification code' (test the process including verification code process) you will receive an email with the code
Enter a new password and confirm new password. Tick/ check terms and conditions, then select 'Create an account'
Account successfully created page: Click 'continue to sign in'
Sign in page: Click 'sign in'
Welcome to the NHS innovation service page: What is your full name? Enter name and click Continue
What should we call your innovation? Enter 'Test1' then click Continue
Please provide a short description of your innovation, enter a description: Test 123, then click on Continue
Are you creating this innovation as part of a company or organisation? Yes, Company and organisation name: test, then click Continue
What is the Size of your company or organisation? Select 1 to 5 employees, then click continue
Where are you based? Select Wales, then click continue
Choose your data sharing preferences page, click 'continue to your account' (Page will take you to your innovations home page)
Journey 2
Case studies: test the page
https://stage.innovation.nhs.uk/case-studies/s12-solutions
About the service: test the page
https://stage.innovation.nhs.uk/about-the-service
What we can offer you: test the page
https://stage.innovation.nhs.uk/about-the-service/what-we-can-offer-you
How we work with you: test the page
https://stage.innovation.nhs.uk/about-the-service/how-we-work-with-you
Click 'Sign In'
Hello 'Your name' Innovations Page, click on 'Test'
Innovation record overview page: click on innovation record
Innovation record page: test the page including download options, and go to section 'Evidence of effectiveness'
Evidence of effectiveness page click on 'start now'
Do you have evidence of effectiveness for your innovation? Select yes then click Continue
Check answers page: click save
Your section has been saved page: click on 'Add evidence'
What type of evidence do you want to submit? Select 'other evidence of effectiveness' then click continue
What other type of evidence: enter 'Test' then click continue
Please write a short summary of evidence: Enter 'test 123' then click continue
Please upload any documents to support evidence: Upload any test document that is XLS DOCX or PDF, then click continue,
Check answers page: Click Save
Your evidence has been saved page, click submit (page will update and submit evidence)
Click on innovation record
Innovation record page, click on Action tracker
Action tracker page: test the page then Click on Comments
Comments page: click add new comment
New comment: Enter Testing in the field provided, then click post comment
You have successfully posted a comment page: send a reply in 'write a reply' Enter received, then click reply (page will update)
Click on Data sharing and support
Data sharing and support page: click Change preference
Change preferences page: Uncheck first two options, then click save changes
Page update and changes saved page: Click on status Key
Support status key page: test the page
Journey 3
URL: https://stage.innovation.nhs.uk
Click 'Sign in' on the home page, sign in with the following credentials (Accessor)
Click on my dashboard (it will take you to Joh Snow Home page) a survey will appear, exit this to continue, then click on innovations,
Innovations page: Click on DTE Innovation
DTE Innovation Summary Page: Click on update status
Update support status page: Select 'Engaging' then click on continue, (Page will update) then click on 'Actions'
Actions Page: click on 'Closed Actions' then select first Action in the list
Submit 'name of the action will be here' Page: select 'Review Section'
Answers Page: click on 'create action for this section'
Request new action page: Select '2.3 evidence of effectiveness', enter: Test in the description field, then click 'Request Action'
Action requested update page – the innovator has been notified of your action request, then Click 'Sign Out'
Click 'Sign in' on the home page, sign in with the following credentials (Qualifying Accessor)
Daenerys Targaryen Home page: Click on 'Review Innovations'
Innovations Page: click on 'engaging' (page will update with a list of innovations)
Click on DTE Innovation
DTE Innovations Page: Click on Engaging then click on continue
Update support status page: select continue

Update support status page: You assigned Daenerys and Joh, enter your comment in the field provided: test 123, Then click 'Save and Post comment'
Support status updated page: end of journey